Client Testimonials
We give Hiep five stars for his excellence.
Hiep is a very warm person, simply pleasant to interact with. He helped us through the entire process end to end - starting from spending 3 days driving us around to get familiar with the area during our 1st visit (we moved from New York), finding a good loan agent, all the way to help us finding contractors and remodeling after we closed the house.
Hiep is very knowledgeable, patient and understanding. He is also easy to reach - returned calls, texts, and emails quickly. Hiep also anticipated things and communicated with us actively. These virtues really reduced our stress in the process. His supporting team is professional and reliable, no miss of timeline etc..
We all hear stories about how a buyer's agent usually tries to get a client to bid high. Hiep does not do this. In fact, in most cases we can recall, he advised us to lower the bidding price. More importantly, we can sense that Hiep has done his homework, including talking to the buyer's agent to collect intel, before advising us. He provides us his reasoning and the facts which he considered.
We certainly recommend Hiep's service.
- Siyuan and Yi


---
We met Hiep Nguyen nearly 10 years ago and we have our Bay Area realtor for life. We just completed the most complex of our 3 projects with Hiep and couldn't be more happy with the experience. First thing you need to know is Hiep has a tech background and it shows. He listens carefully to your goals, puts in place a plan to meet them and project manages execution as if his life depends on it.
For this latest project we had 'started' trying to prepare the house for sale ourselves and amid COVID chaos we were having a devil of a time. We couldn't get contractors to bid, let alone show up. The couple of jobs we got done had stings in their tail around scope / budget. and frankly it was taking us forever to get anywhere and driving us nuts. We called Hiep, explained the situation, within a week he had a plan in place, contractors swarming the house and costs lower than the few bids we managed to extract (Hiep organizes a professional job of what is needed, not what some contractors want to sell you....). He also handled all the little 'pop up' issues...quick text and he had folks showing up to take care of it....no cost creep.
Next step Hiep put the house on the market...and there were complexities; other houses going on the market at the same time and of course the constraints of the pandemic. Hiep pro-actively communicated with other folks in our area and masterminded timing such that we got multiple offers in a week and Escrow closed, with zero 'excitement' a couple of weeks later. We were delighted.
Finally....I would NEVER ask this of anyone and we were somewhat horrified when we found out but you need to know. In the days after we went live he had to have surgery. He checked in with us the day after and whilst still very much recovering was down at our property checking things out and making sure everything was going smoothly. This was beyond all calls of duty but gives you some idea of his dedication towards helping you through what can be a hugely stressful experience.
You can't go wrong with Hiep.
- Simon and Steph Kershaw, Silicon Valley


---
After our parents passed away earlier this year, my sister and I decided to put their Mountain View home up for sale. We asked Hiep to be our realtor. We cannot be happier that we made that decision.
Hiep is a consummate professional, honest and very knowledgeable. He knew right away from our first walk-through what improvements should be made to make our house stand out from the competition. He had a keen sense of what to change and what not to change. Furthermore, he has established a network of contractors, landscapers and workers that can do all the work. He supervised all the workers and knew in detail what steps were to be taken and when. He would advise us, make recommendations and followed through by managing the workers' progress.After all the work was completed and the house professionally cleaned, the home stagers, arranged by Hiep, came and decorated the house and patio. Our "old" parents' house was transformed into a beautiful and gorgeous home, good enough to show in magazines. My sister and I were amazed at the transformation.The house sold with multiple offers within a week on the market. The best offer and the one we accepted turned out to be from one of Hiep's other clients who was looking to buy in the neighborhood. He represented both buyer and seller but we did not feel in any way that he favored one side over the other. He was very professional, respectful and acted with great integrity. We were very happy that he was able to find a good buyer for us.Hiep has helped us through this difficult time with very little effort from our part. He was well organized from start to finish and with his pleasant demeanor it was always a pleasure to meet or speak with him. Without any reservation I would highly recommend Hiep to anyone looking for a realtor. He will most likely exceed your expectations.
- Stu Sakuma, Mountain View
---
We are truly grateful to have worked with Hiep. As first-time homebuyers, Hiep's guidance, patience, and expertise were invaluable to us, and ultimately helped us purchase our dream home in Mountain View!
Hiep works full stack. When we were considering whether to make an offer on the home, he helped us think through potential improvements to make. Once we decided we wanted to make an offer, he helped us craft a competitive offer price that ended up being selected. After coaching us on how to find the best interest rate for our mortgage, he worked with the escrow officer & loan agent to bring the process to close seamlessly.
His support and guidance extended even beyond just the home purchase: Hiep patiently worked with us after our offer was accepted to help us think through renovations. He leveraged his deep knowledge & expertise and provided us with practical suggestions to upgrade the home for it to be move-in ready. He made us feel very comfortable and supported, and patiently addressed all of our novice questions. Best of all, Hiep tapped into his strong network to provide us with vendor recommendations for our renovations, which ultimately saved us a ton of time and money.
We highly recommend Hiep to anyone looking to purchase a home in the Bay Area - he will go above and beyond your expectations. Thank you, Hiep, for being an incredible partner to us!
- Reena & Ulhas, Mountain View
---

"We feel truly lucky to have found our first home with Hiep. He was recommended to us by a friend and we couldn't have found anyone better. We began "window shopping" early on in 2021 with little knowledge of the process and what we wanted. Hiep was there to guide us through everything. He truly took the time to get to know our family and what we were looking for in a home within our budget.
With little knowledge around the real estate market ourselves, Hiep walked us though everything. He took us to several homes where he went into details pro's and con's and gave us a better understanding of what exactly we were looking for. He helped us feel confident in buying a home that needed some fixing up because of his knowledge and expertise on remodels and investment properties.


Hiep helped us through this whirlwind of an experience and continues to offer support and resources even now that we've moved into our new home. He is such a genuine, caring person and we hope to work with him again for any of our future real estate needs. We absolutely would recommend him to anyone looking for a realtor in the area."

-Hannah and Justin Fortner, Willow Glen, San Jose


---
"Having Hiep as my realtor was one of the best decisions that I made early in my home-buying process. Multiple work colleagues strongly recommended Hiep and from the very first point of contact to closing and beyond, he has been responsive, insightful and thorough. Even for someone who grew up in the local area, his insider knowledge of local neighborhoods and market trends far exceeded my own which proved invaluable.


Early in the process, he played an integral role in helping me better understand my needs and the essentials that I should prioritize in narrowing my search. With each home viewing, it was clear he was constantly adjusting to my input and responses. Soon, home after home seemed a better and better fit. With his guidance I was able to quickly identify many standouts while avoiding those homes that appeared great only on paper or in shiny, pretty pictures but ended up having major drawbacks that only a realtor like Hiep can truly appreciate.


When I finally found "the" home, he was able to quickly organize and mobilize to get my offer in on the ground floor, negotiate with the seller and ultimately get a great, fair price. And even after buying, his connections helped me quickly get in touch with trusted contractors and tradespeople to get my home move-in ready.


It is without any reservations that I recommend Hiep for any prospective home buyer. He is fully deserving of the high marks and praise from his former clients and he has shown incredible talent, patience and integrity throughout my homebuying experience."

- Andrew N., Portola Valley


---
"In this crazy 2021 market, it can be quite difficult to buy your "first home" in the bay area. After searching with another agent without success in 2020, we're grateful to have met Hiep, who was instrumental for us successfully buying our Campbell home this spring. In a competitive high-value market, Hiep was a breath of fresh air taking the time to educate and help make the right decision for us, rather than pressuring to make a commission. He was great communicator with both us and other agents.


We were debating between buying a townhome or single family, Hiep helped guide us through the decision-making process showing us many options over several months. We decided that location and having a single-family property that we can grow with were the most important things to us, and Hiep helped us gain the confidence to buy a property that needed some remodeling but had several other qualities we were looking for. Hiep's personal experience with development and remodels of investment properties was very beneficial during the shopping/buying process, helping provide context on estimated costs of remodel efforts and opinions on what would add equity/value in the future. Not only did Hiep help us buy a house, but really taught us a lot about real estate and the market during the process.


Even after getting under contract, Hiep referred us to additional lenders to shop around and get a better rate than our pre-approved lender, which will save us significant expense over the course of our mortgage.
Hiep is genuine, and we feel fortunate to have had his help through this process. We will definitely be leveraging Hiep for any future real estate transactions and would recommend Hiep to any friends or family in the area."

- James and Kristie Sutton, Campbell


---
"Hiep is a remarkable agent who lives up to the reputation of being part of Intero's elite top 1% worldwide! He is knowledgeable, professional, resourceful, warm, friendly, honest and patient. He always prioritizes his client's needs, will work tirelessly for them, and is dedicated to maximizing their happiness, while always maintaining the highest integrity.

Hiep is also creative and skilled, not only with his marketing, sales and negotiating skills, but with the design and development. It is obvious he has a true passion for this!


Hiep has assisted us with two transactions and despite the challenges we imposed upon him, he successfully completed them and made it look effortless.


With the first transaction, we were relocating to the Bay Area and Hiep shared his knowledge about the different cities, neighborhoods, and schools . He also gave insight about the character and culture of each location. We eventually decided to make an offer on a home one late evening, but were leaving for vacation the next morning, so Hiep stayed up until the wee hours of the morning to complete and submit the offer. At that time, the market was insane and every house was selling well above the asking price with many offers . To maximize our chances, we also made an offer over the asking price, but Hiep recommended lowering the offer price, saving us A LOT of money. To make matters more complicated , the market was still suffering from the banking crisis and there were multiple delays with our loan . Hiep was able to keep in constant communication with the sellers agent so that they wouldn't go with another buyer. He even referred us to a new lender, who was able to expedite the process or we would have lost the home .

Our second transaction with Hiep also presented its own challenges. Covid 19 had slowed down the renovations we were making prior to selling the home, but Hiep was able to offer his resources so that the renovations were completed quickly. He also added excellent design ideas and helped oversee some of the exterior renovations himself. We gave him a challenging deadline but he was able to sell the property in a matter of days, coming through for us again!!


Hiep consistently goes above and beyond to meet all of his clients' needs and give them the best personalized experience possible!"


-Harvey and Hao, Cupertino & Saratoga


---
"Hiep is a master of Bay Area real estate. His understanding of how the Bay Area market operates is top-notch. Hiep helped us purchase our first home. We started looking during the COVID-19 pandemic. This brought many unique challenges and firsts. With Hiep's help, we were able to understand the critical dynamics and steps influencing the housing market. These were very important for us to create a framework for our decision making. Hiep is very easy to get along with. He was able to make a rapport with our 3 years old child allowing us to be more relaxed while viewing homes. In addition, we had some requirements that would strike out some of the houses. Hiep understood the need and was patient with us as we looked through many houses. During our house negotiation, Hiep's approach and co-ordination were masterful. Once we got into contract and closed Hiep introduced us to other experts like the mortgage lender and home improvement professionals that were excellent."

- Sarav & Megha, Menlo Park


---
"Hiep is a fantastic agent who helped us buy our first "real" home. One of the first things you will notice about working with Hiep is how well he is able to use his extensive knowledge about the local market to tailor options to fit your needs. We started the process with a conversation of our goals and what we thought we were going to need. He then proceeded to give a lot of helpful ideas about how we might make our goals reality without necessarily finding the perfect house. We had many questions during the process and he was very responsive and helpful. He has a lot of connections which proved helpful when we were looking for our house. These connections made it possible to tour a house that was great for us, exactly in the neighborhood we wanted, the instant it came on the market. He also knew of several pre-market homes, and although we didn't end up bidding on any, it was nice to have more options than what is available on any MLS based site/app. Buying in the Bay Area is still quite competitive and there were multiple bids on the property we ended up buying. His negotiation skills were a major reason we were able to have our offer accepted. Once we were under contract he put us in contact with great lenders, title company, etc. We were always taken care of throughout the whole process. And, after the sale, he put us in touch with architects and contractors to transform our new home (which we love as-is), into our dream home. I also want to point out that the whole process, from first contact to close took just over two months, which is remarkable given the state of South Bay real estate."

- Matt & Kathy, Mountain View


---

"We live on the east coast and needed to sell a house on the west coast as part of an estate. We were not familiar with the hot Bay Area real estate market and would likely make mistakes without some experienced, and trusted, guidance. My internet research eventually led me to Hiep and we were very happy and pleased with the smoothest real estate transaction we have ever experienced. On our first meeting, Hiep walked us through the property and made thoughtful suggestions on areas that need improvements and why they should be made. He was insightful but never made us feel pressured. He proposed a remodeling and marketing strategy and schedule that would help us get to the market as quickly as possible to maximize a selling window in a hot but changing market. Once we began, Hiep lined up the contractors and coordinated the remodeling work on our behalf. We also trusted him to help pick out the necessary materials and colors. He informed us of progress along the way and kept the schedule perfectly on track. The end result was an unbelievable transformation of the property, and everything was within budget and on schedule. Two days after the first Open House weekend, we received, and accepted, an excellent offer. From that point on, Hiep worked with Escrow and the buyer's agent to bring the complex process to a close without any complications. Hiep is an honest, personable, and professional realtor. He far exceeded our expectation. We highly recommend his service to anyone who is looking to buy or sell property in this area. Hiep ... THANK YOU!"

- LN from Cary, N.C.


---
"Hiep was a fantastic agent for the purchase of our new home! We were looking for a high-end home in a nice neighborhhood and we found Hiep to be very knowledgeable about each specific neighborhood as well as each type of home. My wife and I were nervous about trading up in such a hot makret but Hiep made us feel at ease throughout the entire process. His service, patience, and experience was outstanding and I would highly recommend him.
- Mike & Rima, Monte Sereno/Los Gatos
---
"Hiep is a standup realtor. He was referred to us by a colleague/friend who had used him for a couple of their homes, and we were very glad for the referral! We were unfamiliar with the neighborhoods we were looking into, and Hiep remained very patient with us and educated us about the pros and cons of each neighborhood. He took his time to get to know us as a family, what our needs were, and what they would be (since we have 2 young children). He brought us up to speed with regard to the crazy market in order to help us figure out how to attain as close to our dream home as possible. After 4 months, 50+ open houses, 5 bids, we purchased our cozy home in a family friendly, safe neighborhood with a great school system. His expertise extends beyond finding a house; he also helped us see how it could a home – including possible renovations to meet our needs at every house we visited.
Hiep's help didn't end after the house was purchased. He introduced us to other vendors / contractors for renovations, landscaping, interior design, etc.; he even played the role as a translator! His recommendations saved us time and gave us confidence that we were taken care of.
We could not have asked for a more trustworthy and knowledgeable agent. Hiep takes good care of you and your family as if they are his own. Would highly recommend him! And he's always welcome in our home."

- Linda & Dung, Sunnyvale
---
"From start to finish we found our home in a week made an offer which was accepted thanks to Hiep's magic. He has the "Guanxi" and knows how to close the deal. Our buying process was seamless and he respected our decisions and didn't push us in getting in a bidding war etc. More than just buying the home, Hiep also helped us with providing us an excellent contacts of extremely credible people who helped us take care of our tax/attorney work. He is someone I reach out to whenever I have a real estate question and he is quick to respond and provide the right guidance. He is very professional and thorough in his approach and provided good sane advise throughout the buying process. He definitely is a person who has an impeccable reputation and is well respected in the real estate community in the bay area. Several agents we met at open houses said - "Oh you're working with Hiep...you're in good hands"

- Manoj & Ekta, Palo Alto CA


---

"Working with Hiep as our real estate agent was fantastic. He took the time to get to know us and our style. Hiep was incredibly patient with us and constantly took the time to explain every step of the process. But the thing we appreciate about him most, is his integrity. Even after his "job" as our realtor was done, he continued working with us - introducing us to potential designers, architects, etc to help us with the house. Hiep is a stand-up guy who I consider our real estate agent, and our friend."

-Sandip and Nina, Palo Alto


---

"I have known Hiep for a number of years. He has helped me to find our first home in Los Altos. A few years later we decided to use his services again to find us an investment property. The markets in Silicon Valley or SF Bay Area can vary greatly. And working with a knowledgeable real-estate expert is key. There are great differences in terms of cities and towns here in the Bay Area and even differences all the way down to the street level, local schools, upcoming developments, etc. which is critical information to have before making a decision into which property to invest to.

As we discussed different properties Hiep was able to further guide us with the pros and cons of Single Family Homes (SFR) vs. Multi-units (Duplexes). We also decided that we wanted to invest in a property which needs updating to save on property taxes. Hiep has great experiences with remodeling which gave us a sense of the rehab costs and comfort in buying.

As a well-respected real-estate agent Hiep has been helping other clients for many years and thus has a great network of resources and contacts who were able to help us right away and with the right budget we could afford to do the remodeling.

Finally, Hiep himself "walks the talk" because he personally has invested successfully in other investment properties and can guide a new person or family such as ours to make the right decision. He takes out the guesswork, takes our interest first, and knows what it takes to invest with confidence in real-estate."


- Uwe W., Los Altos resident


---

"Hiep has been my neighbor for ten years, and when I found myself divorced and needing to sell my house, he had a short-term rental solution and calm assurance at the ready. A few days later, my daughters and I found the perfect townhouse nearby, and I asked Hiep if there was any chance since I hadn't yet sold my bigger house. He put together a plan to make a contingent offer, and by a miracle and a hail Mary, and Hiep's professionalism, my offer was counter-proposed minutes before another offer came in. Then we had to get going selling my bigger house, so the deal could finalize. Hiep had the timeline prepared down to the last detail, with painters and handymen and stagers timed just right. We got a great offer quickly, and with the help of Hiep's mortgage broker I was able to close the deal on the townhouse, and Hiep was calm and supportive through all the stress. I was able to keep my daughters in the same school district, we moved seamlessly from house to house, and he continued to support us with the last loose ends. It really seems like a Christmas miracle, and I know that Hiep's skill and finesse and strategic planning made it all possible. Thank you so much Hiep! So glad to still be your neighbor!"


- Elizabeth S, Los Altos Seller & Buyer


---

"Hiep was a fantastic partner for us throughout our process. We built a relationship over years and he never once made us feel pressured, but when our family was ready to make a move he was there on a moment's notice. As a former engineer, he has a great eye for detail and as a property developer and investor himself he brings a strong investor mindset to the process, but his biggest strength is as a true partner who understands that buying a home is not only a big financial decision but also big emotional decision for a family. He was data-driven when it counted but empathetic and intuitive when it mattered. He listened carefully throughout our process and was able to play back to us what we had said was important in our decision, but then also was able to put that in the context of the market dynamics we were operating in.


Every purchase and every process is unique and Hiep appreciates that. On ours, we made two offers about six months apart, with no activity in between. We all know that this is a very unique market and most realtors would have been desperate to push us to jump on the next property that came along after our first offer but Hiep had no problem taking his cues on pacing from us and our level of excitement. When we finally found a home that we had interest in, he helped us analyze it as both an investment and a future home—he was always careful to be a supportive sounding board but also did not shy away from sharing his honest perspective when needed. With the home we ultimately purchased, we had some initial concerns with the property around the house. He helped us analyze what we could address over time and what about the property was intrinsic to the home and that we would need to get comfortable with before moving forward. Many realtors tell clients what they want to hear in an effort to get a sale—any sale—as fast as possible. Hiep wasn't like that and had the patience to support us with a process that we were comfortable with.


When it came time to do the final negotiations and put together a bidding strategy in what we knew would be a multiple offer situation, Heip helped us get a read on the situation, accurately forecast where it was likely to end up, and then allowed us to make the final call on how we wanted to bid. In the end, he was a full partner in the final bid we submitted and we were able to find something that worked for both us and the seller without multiple rounds of bidding and one that we were confident still represented fair value.


We've owned homes in multiple areas across the country, and it's clear that the Bay Area is a not just a difficult market for buyers but it can also be a deceptively difficult real estate market to be a realtor in—particularly as a buying agent. On the surface it might appear that being a realtor is easy in this market —when in doubt just bid higher!—but in the end being a great realtor is about being a great partner. That partnership is built on hard work, excellent judgement, and a deep understanding of both the market and the buyers or sellers they are working with. Hiep lives up to that gold standard and I have no hesitation in highly recommending him as a partner to your family throughout the process. If you have specific questions about our experience and would like to discuss anything in more detail, I would be happy to discuss more privately."

- Taylor & Stephanie B., Los Altos Hills


---
"After a couple of years of searching for a house, and almost giving up on our search several times working with a few different realtors, we came across Hiep and decided to engage him with our search. We were weary of going with an established real estate agency just because we weren't sure how much attention we would get with our limited budget. Not only was our budget limited, we were very picky about the location of our first home (San Carlos, and similar locations). Given our near impossible budget for the locations we had in mind, we had little hope of finding our first home anytime soon. Hiep completely blew us away! He seemed to have an endless list of houses to show us - off-market, fixer-uppers, smaller houses that could be expanded...etc. Anything, that would fit our budget, in the location we wanted, and a style that was suitable to us. Oh, and we also had a specific direction the houses needed to face, as one of our criteria. In just a few months Hiep helped us land a single family house in Belmont! A house in a 10/10 school disctrict, within our budget, in a fantastic location, and 3beds/1 bath! It needed a little bit of work, which Hiep helped us get done. And by helped, I mean literally oversee the entire rennovation while we just gave input. We couldn't ask for a better realtor! Hiep went above and beyond in all possible ways, was up to the challenge we presented him and succeeded beyond our expectations! Highly recommend Hiep to buyers in this crazy bay area market."

- Bheem Bhatia and Sindhu Madhavan, Menlo Park


---
"Hiep helped us buy our first home. We could not have asked for a better experience. He was very responsive. If we expressed interest in seeing a home he would set up a viewing that same day and set up additional homes in the area. Hiep is very knowledgeable about the real estate market and the process of buying a home, which was incredibly helpful and comforting as first time homebuyers. Where Hiep really shined was in his offer tactics and negotiation skills. There were multiple offers on the home, but we were still able to get it for less than we were willing to spend.

Hiep's efforts did not stop after our offer was accepted. The home needed some immediate repairs so Hiep not only recommended contractors but coordinated their visits to the house. One of the recommended contractors said they could not fit us in for a few months, so Hiep gave them a call and they fit us in a couple weeks later. The home needed a new roof, so after a big storm we were worried about water damage. Hiep came over and he and my husband climbed in the attic to make sure there wasn't any water damage. All in all, Hiep surpassed our expectations. I do not think we could have been in better hands. We would highly recommend Hiep to anyone."

- Jessica North


---

Hiep helped us find our dream home in Los Altos. Before meeting him, we did not have much luck - either the houses were not to our liking or there was too much competition.
Hiep is a Los Altos specialist who knows the local "feel" of the community, culture and people that only a resident would know. In addition he has a really good network and has a good relationship with many realtors. He showed us several off-market properties in a short time and we felt we had a much better chance working with him.
After we found the right house, Hiep worked closely with the listing agent and guided us through the negotiation process to get us the home we wanted while getting a good deal. During this process he also pointed out possible improvements that could be done before we moved in and also helped find the contractors who would be able to execute the changes in a short time.
Hiep's experience and depth of knowledge in real estate is a tremendous asset. Working with him we always felt we were in good hands and Hiep made sure we were 100% satisfied. I would definitely recommend Hiep to anyone.

- Ram Vadali


---

We had an excellent working experience w/ Hiep Nguyen as our real estate agent, and would highly recommend him. When we were looking, it was clearly a seller's market and it was typical to have 7-15 offers for a given home and it would sell for 15%-20% above asking. We believe we benefited from the following strengths: trust in Hiep, his strength in negotiation, and personal relationship w/ many of the listing agents. It's difficult to trust someone initially, but over time, it was clear that Hiep had our best interest in mind. He didn't always tell us what we wanted to hear, but he shared what we "needed" to hear. Negotiation is so important in this environment, and Hiep knew how to write/negotiate a contract to get our offer accepted over the other offers. Relationship w/ listing agents is of utmost importance and often overlooked by buyers. In many of the open houses that we went to, the listing agents knew Hiep and in the end, it was an important factor in getting us the home We are very excited w/ our home and thankful for Hiep's help. Happy to recommend him and answer any questions that you may have."


-Shah Family


---
"We had the pleasure of working with Hiep for our recent home purchase. Being in the SF Bay area, we had to deal with a tough market with high real estate prices, multiple offer scenario and low inventory. Hiep was able to work creatively to find us a probate sale (aside from conventional MLS listing), which enabled us to get the home w/ less competition. Hiep worked with us to understand our needs and wishes...more specifically, the school and location needs, and also our budget and flexibility. He tirelessly worked with us to provide multiple options, carefully detailing the pros and cons of each option with respect to our needs and wants. Once we found our dream home, Hiep worked closely with the selling agent and my financial agent to ensure that the closure process was smooth and timely. Hiep is very easy to work with and very responsive. He understands the bay area market and its dynamics very well. I have already recommended Hiep to my friends and will recommend him to anyone who is looking for a house in the bay area."

- Manoj and Neha Deshpande


---
"As past owners, and current brokers/managers for our own real estate company in the Central Valley, we carefully chose a company and realtor to represent our daughter in her purchase of Bay Area real estate. Our selection of Intero Real Estate and their veteran agent, Hiep Nguyen turned out to be the key component to one of the most successful home searches and purchases that we have witnessed in our 25 years as real estate professionals.
Hiep's experience and Intero's strength in the very complex and difficult Peninsula market, allowed our daughter to conduct a comprehensive search and successfully target her first choice home in the course of several days. Hiep quickly memorized her buyer preferences, and moved methodically through possible options. After the first choice home was chosen, Hiep demonstrated patience and a great depth of knowledge as he explained the myriad of disclosures and the intricacies of the offer process to a first time home buyer. As is so often the case today in a multi-offer situation, a clear and defined strategy for the details of the offer and its presentation can determine success or failure. Here again, Intero's reputation and Hiep's expertise carried the day.
We give Hiep Nguyen and Intero Real Estate our highest recommendation and thank them for their service to our family."

- Joan Eaton and Paul Gibson, Co-chairmen, Guarantee Real Estate


---
"Hiep exceeded our expectations on all fronts. During the sale of our previous home his diligence, attention to detail and business acumen resulted in a terrific result that was beyond the top end of what we envisioned possible. Hiep has a bonafide ability to play a variety of roles and leverage multiple talents and strengths - he is part strategic advisor, home visionary and quality consultant. He also leaves no stone unturned in providing exceptional service to his clients. He has an innate ability to focus, truly listens and gets to know his clients. While it is fairly common to describe Hiep as "patient and understanding" I believe what distinguishes him from other real estate professionals is his ability to understand what his clients are searching for and execute flawlessly. In buying our new home, Hiep was able to locate a great property in Menlo Park and worked with us tirelessly in answering questions and providing recommendations on architects, contractors and other service providers even after the close of escrow. He is a consummate professional and we would strongly recommend him to anyone selling and/or buying a home."

-The Peypoch Family


---
"You could not ask for a better realtor, hands down! Hiep is an honest, thorough, professional, personable, realtor, with a keen business sense. Hiep's expertise and breadth of knowlege far exceeds that of other realtors we worked with in the past. His diligence, reponsiveness, and attention to detail resulted in a seamless process, from the pre-planning to the sale. He truly goes the extra mile for his clients, which included beautiful aerial photos and videos, on top of the photos of our home. Thanks to Hiep's hard work and marketing skills our home sold in 1 day! This is unheard of in our remote area, homes are usually on the market for months. Even after the sale of our home, Hiep continued to help us, including finding movers, etc. I highly recommend Hiep Nguyen whether you are buying or selling a home!"

- Mary Halpin


---
"Hiep greatly exceeded our already-high expectations. Because of him, we bought our beautiful new home in Menlo Park at below the asking price (even with multiple offers) and received seven offers on our old home, getting us substantially above our asking price. Hiep approaches his work with intelligence, thoughtfulness, and superior negotiating skills. He's also kind, respectful and full of integrity; someone with whom we enjoyed sharing our weekends while we shopped for a home. Even our small children loved him. We refer him to all of our friends seeking a realtor."

- The Evans Family


---
"Hiep was very knowledgable and helpful when we were buying our first home. He gave us very accurate estimates of the final selling prices. That was very instrumental in helping us to win the bid for our house."


- Kevin Chang


---
"Hiep helped us find our home. He was dedicated and professional. He navigated the offer process well and got a good read on how to get the house. We highly recommend him as your Realtor. "
- Guy Goldstein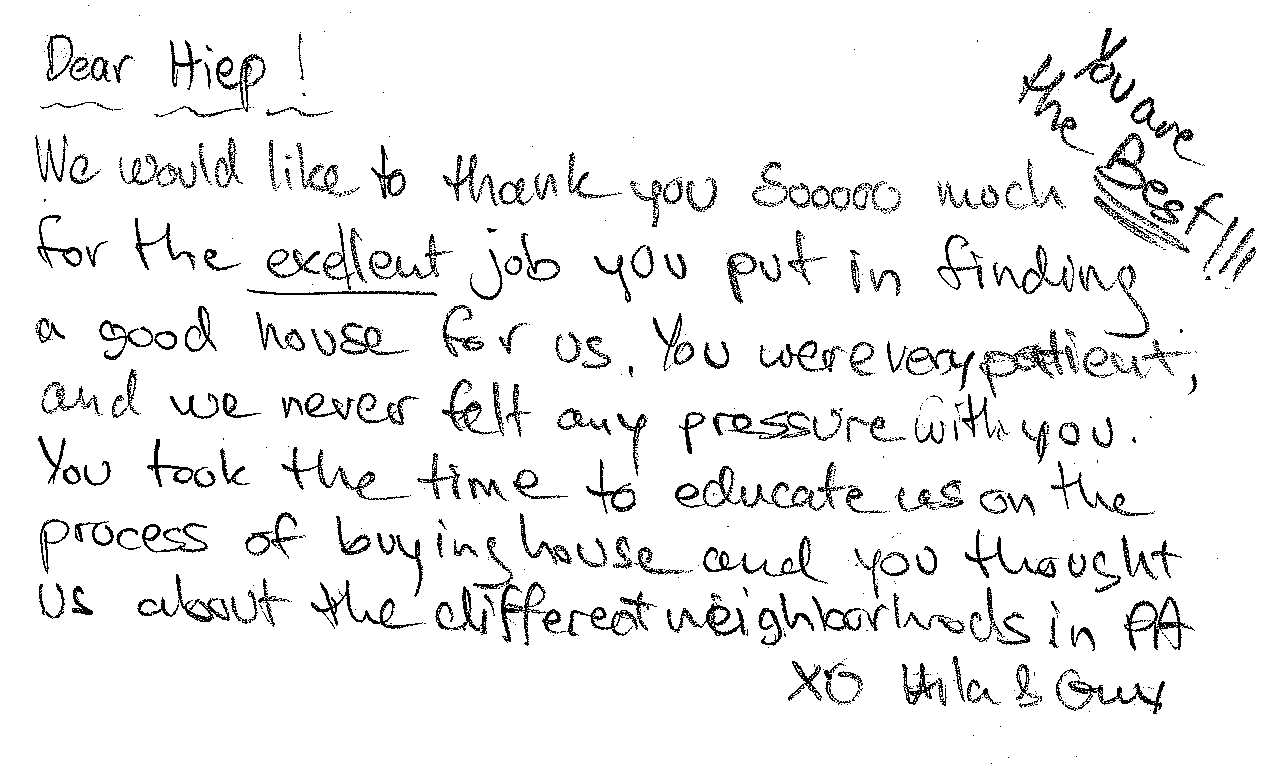 ---

"The combination of Hiep's expertise in the field, knowledge of the South Bay market, and good relationship with other agents is what got us our new home.


We were getting discouraged after looking for over a year and being outbid several times, but Hiep remained optimistic and his top notch negotiation skills played a key role in landing our home in this unbelievably competitive market.


Hiep was our real estate agent, but now we consider him a friend. He was there for us through the grueling process and we have no doubt that he'll be there for us in the future. We highly recommend Hiep without any reservations."

- The Yu Family


---

"We met Hiep at an open house, and were impressed with his professionism and demeanor. Hiep understood what we wanted in a house and helped us visualize the potential of homes. He had readily accessible resources and first hand knowledge in remodelling homes which enabled us to buy the home in the neighborhood we wanted within our price range. Even after the transaction has closed, he continues to guide us through the remodel. He takes pride in his work and genuinely cares for his clients. We highly recommend Hiep. Thanks Hiep."


- Wong Family


---

"We had an excellent working experience w/ Hiep Nguyen as our real estate agent, and would highly recommend him. When we were looking, it was clearly a seller's market and it was typical to have 7-15 offers for a given home and it would sell for 15%-20% above asking. We believe we benefited from the following strengths: trust in Hiep, his strength in negotiation, and personal relationship w/ many of the listing agents. It's difficult to trust someone initially, but over time, it was clear that Hiep had our best interest in mind. He didn't always tell us what we wanted to hear, but he shared what we "needed" to hear."


"Negotiation is so important in this environment, and Hiep knew how to write/negotiate a contract to get our offer accepted over the other offers."


"Relationship w/ listing agents is of utmost importance and often overlooked by buyers. In many of the open houses that we went to, the listing agents knew Hiep and in the end, it was an important factor in getting us the home"
"We are very excited w/ our home and thankful for Hiep's help. Happy to recommend him and answer any questions that you may have."

- Shah Family


---

"Hiep is a fantastic real estate agent and I would recommend him to anyone who is looking for an agent. I was looking for my first investment property and didn't expect to find anything outside of San Jose that I could afford. Because of Hiep's relationships, he was able to help me secure a property in Sunnyvale which I'm extremely happy with. With each place that we made an offer, Hiep also provided a spreadsheet that showed what income is required, anticipated expenses for me to make a profit, break even or take a loss."

"Once we closed on the purchase, I figured my relationship would end with Hiep. Hiep reached out to me shortly afterwards to let me know that he will continue to have a relationship with me for as long as I want. Since the closing, Hiep has found me an excellent property management company, provided me with the contact of the property owner with whom I share a lawn with to see if she would be willing to share the cost of the landscaping, provided me with the contact info for PG&E, water and garbage for Sunnyvale and has responded quickly to any of my questions. Hiep also managed and was the interface to the contractor who was very reasonably priced that fixed up the duplex I purchased as well as provided me with the receipt of the work. Hiep even found me a washing machine one of his other clients didn't want!"

"I cannot express enough my appreciation for all of his assistance, his skills and his ability to anticipate my needs. Hiep has gone way beyond the call of duty of any real estate agent I've worked with in the past or heard about to make this purchase an exciting and happy one."


- Naomi B.


---

"We met Hiep at one of the open houses he had in Sunnyvale. We just started looking for a house in the Sunnyvale area and it was getting out of our budget. Hiep knew area very well and showed us properties prior to them being listed on the MLS."

"In about 3 weeks we found our home and we got it at a reasonable price. This experience was completely unheard of and its been great working with Hiep. We really thank him for his work and negotiation for our home."


- Siddharth Vora


---

"I met Hiep 4 years ago (in 2010) and immediately felt he was an honest person that I could work well with. He mentioned he was a realtor, so I told him that my wife and I had thought of purchasing a duplex in San Jose as an investment. I was skeptical when Hiep told me: "Do you realize you can purchase a 4-plex for roughly the price of a duplex?", but he proved to be right. We started looking at 4-plex listings together right away, then found & purchased our first apartment complex in early 2011. The first 4-plex we purchased met all our basic criteria (price, location, condition, proximity, and cash-flow potential) thanks to Hiep's invaluable research. We recently completed our 3rd property purchase with Hiep's assistance, and it has been a genuine pleasure working with him on each one of the property acquisitions."


"Hiep is much more than just a real estate agent. His knowledge of the South Bay Area real estate and rental market is truly top notch, but it's his research and negotiation skills, along with his willingness to provide advice along the way that really sets him apart from other agents. Each time we submitted an offer on a property we honestly felt we understood the local market and had a competitive bid for the property, without overpaying."
"Hiep's unique skills as a price negotiator are very effective. He often sees 2 moves ahead of other competing agents by detecting clues on price and terms from seller before submitting a winning bid. I feel that Hiep is the Sherlock Holmes of real estate agents!"


"If you want to find the right property at the right price, I recommend using Hiep Nguyen!"

- Jeff LaBerge


---

"Hiep Nguyen was instrumental in selling our house quickly. From the moment we started working with him, he took the ball and ran with it. He did all the legwork meeting with various contractors and professional services to get our house "sale ready" in a matter of weeks. Hiep constantly checked in with us to let usknow the status of the sale - and eventual offer above asking price – which made uscompletely at ease during the entire process!"


"Working with Hiep is effortless due to his professionalism, strong work ethic and positive attitude! I highly recommend him for anyone who is looking to buy or sell property in the Bay Area!"

- Cameron and John Hamblin


---
"Our lovely home did not sell when listed with another agent. Once we hired Hiep and Denise, they did an amazing job transforming the home; the results exceeded our expectations and they did gain top dollar for our home. A lot of agents talk the talk but they actually do everything that they said, and more. The process was smooth, stress-free and we can't wait to recommend Hiep and Denise to others interested in selling their homes."


- John & Kathryn Cross


---
"Our first home purchase couldn't have been more smooth or effortless for us thanks to Hiep! His patience, expertise, timely advice and sense of humor were the most valuable assets for us throughout our search. Hiep has certain 'je ne sais quoi' about him that makes people around him feel comfortable and confident; from the first time we met him, we knew we could trust him to look out for our interests."

– Ryland & Jiyeon Degnan


---
"My wife and I were fortunate to work with Hiep on the sale of our property in Los Altos, and then also on the purchase of another property in Los Altos. On the sale, Hiep demonstrated tenacity and professionalism in the preparation and listing of our property. The negotiation phase (which resulted in 4 competing offers during a "buyers market") resulted in an exceptional final result. On the following purchase, Hiep was able to quickly figure out we were not looking for what most people were looking for, and he adjusted his approach to match our specific goals. Again he made his mark felt during the negotiation stage. I would highly suggest you talk to Hiep for any Real Estate sales, purchase or development activity."

– Grant McCormick


---
"Hiep is one of those people you recommend to all your friends and colleagues. His persistency doesn't even compare to other agents I've met and he's sincere. I knew early on I could trust my home in his hands, plus help me find the perfect new home. He knows real estate and what works and doesn't work when variables change. He gets results. And in my case, he far exceeded my expectations."

- Heidi McCormick


---
"Hiep's diligence and attention to detail made our recent real estate purchase a breeze! He managed the inspections and resulting action items, answered all of our questions, and followed up on post-close actions promptly. We highly recommend working with Hiep."

– Yumie & Joe Britt


---
"We worked with Hiep to help us figure out what kind of property to purchase for our first investment property. He was very knowledgeable and worked closely with us to help us target our needs. He also had some very useful financial tools for us to track the overall income generated by the product versus the outflow. We had a great experience with him, and highly recommend him to others."

- Neel & Carrie Chatterjee


---
"We have been interviewing a number of agents and started with one already but did not get the results we desired. We found Hiep and from the beginning felt very comfortable. Buying or selling a home is a very emotional process and usually a big sum of money is involved. Working with the right person or agent is almost as important as buying the house itself. Hiep is very knowledgably about the market in Silicon Valley and follows trends carefully and knows the neighborhoods very well. One of the things we especially appreciated about Hiep was that he never pushed us to make any fast decision. We weighted options and selected an approach which works best for us. So, for us it was important to not only find the "perfect" house but also not to overpay. Hiep knew that the price we had in mind may not work for some of the offers we submitted but did not push us to pay more which many agents would do in this market. Instead he waited patiently with us and always came back with new opportunities and kept us informed about the market. In the end he found us the right place and successfully negotiated a price we felt very comfortable with. Another important aspect for us was that he has a great understanding about interior architecture. We were looking for a house we can remodel instead of buying a brand new house which typically is more expensive. He helped us to find the right people to work with but also had good ideas on how things can get done and in fact what the price would be to calculate with. None other agents were able to provide such services."

–Uwe & Yulia Weinkauf


---
"Hiep was diligent and patient in working with us for almost a year based on the parameters we gave him in our search for a new home in Los Altos. Even after escrow closed, he was always available for any service request we had and rendered his help promptly and willingly. He is a true professional that I would endorse to any other home buyer."

- Ken & Penny Koh


---
"I have worked with Hiep at Intero Real Estate Services and have watched him continually exceed expectations in everything he does. He is someone that you always want around with his positive approach to life and business, and it is an honor to work with him…as I know it would be for anyone else that is lucky enough to do so. He is a true professional in every sense of the word, combining expertise with personal concern in every action he takes. Thank you so much Hiep for all your contributions to your clients, to me personally, to Intero, and to the industry!"

- John Thompson, Founder, V.P. Intero Real Estate Services


---
"Hiep helped us buy our home in North Los Altos and also helped us sell a house in another town on the peninsula. We have bought several houses up to that time and he was by far the best realtor. You can't do better than Hiep.
There are three things that stand out about Hiep. First, he has an extremely deep knowledge about the town of Los Altos. Each town is different and within a town each neighborhood has its own pluses and minuses. We went through about 20 houses in Los Altos and are very happy with the location of the house we ended up buying. The kids love biking around the cul de sac and playing with other kids on the street and our entire family loves walking to downtown for ice cream, Jumba Juice, and bookstores. His knowledge is also reflected in his great sense of a fair price for a particular house. When every $10,000 could make a difference, we feel that we received excellent advice on how to position our bid.


Second, Hiep is a very effective negotiator. It seems that most realtors try to press the buyer to bid high and the seller to offer low, and are more interested in getting the deal done than in trying and negotiating with the other side and helping the other side see the validity and the strength of their client's position. On both the buying and the selling, Hiep was absolutely willing to take a strong offer to the other side and find a way to convince the other side to accept it. We didn't feel any effort by Hiep to try to raise our bid beyond what we wanted when we were buying or lower our offer below what we wanted when we were selling. We got both deals done at a price where we felt good about.


Third, Hiep can and does handle everything for a seller. There was a great deal to do to put a house on the market – including, in our case, moderate landscaping, interior/exterior painting, and staging. Hiep completely took things off of our hands and dealt with everything for us. It was a real easy process for us. We sold the house within one week of putting it on the market, and Hiep got the last $5,000 we wanted on the price."

- Soo and Jonathan Zhu